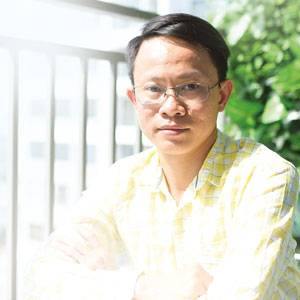 Trinh Le, CEO
The world has suffered one of the most volatile years with severe impacts due to Covid 19, and Vietnam is no exception. Nevertheless, Viet Hai Communication's CEO, Trinh Le finds this a potential boost for Digital Transformation to accelerate and spread further on the global scale. Set off by the hinge year 2021, Viet Hai Communication is reiterating its vision–creating global prosperity and paving the way for innovation by Solution Seekers–realized through the company's achievements in 2020, and the strive to accomplish significant targets in the upcoming days. Trinh states, "We feel more and more confident in the vision we are in pursuit of."
Trinh highlights that it was around this time last year when Viet Hai Communication had shared to the public their motto of being people-centered, focusing on training and fostering human resources. Thanks to the idea, the company could maintain stable performance and offer sufficiently paid jobs to well-motivated staff against the dark backdrop of the ongoing coronavirus crisis. This is precisely the reason why Viet Hai's proficient team is learning and working day and night, and seeking solutions to bring the best technology values to customers and subscribers. In the same vein, Viet Hai Communication is enabling its clients overcome the limitations of time and space, helping them in their mission of creating value in the process of Digital Transformation.
Viet Hai's ability to empower its clients with tremendous value stems from its solutions in the realm of Rich Content Message (RCS), Digital ID (DID), or projects related to 5G/IoT–one of the emerging technology trends recently. Viet Hai Communication infuses RCS technology into its offerings and enables telco firms to control their channels and reach the desired audience fully. Helping the telco operators to hook into the ecosystem of RCS, Viet Hai Communication is fueling their digital transformation initiatives and helping them gain back control on their channel.
We are not only the Reseller, But also Act the Essential System Integrator that Enables Telco Firms to Adapt to the Technologically Remodeled World and Derive the Maximum Benefits
"We are not only the reseller, but also act the essential system integrator that enables telco firms to adapt to the technologically remodeled world and derive the maximum benefits," remarks Trinh.
The company's agile approach steers it ahead of the competition. With its longstanding experience of almost 15 years in providing engineering and consultancy services to telecom operators, network service providers, and internet broadcasters, Viet Hai Communication has created ripples across several countries with its innovative services and helped in successful network rollouts. The company is driven by its vision to help customers navigate the complex digital transformation realm. Gradually expanding its clientele, the Vietnam-based firm is presently working with service providers to establish an official, cost-effective messaging channel within the ecosystem that supports both the telco operators as well as several small and medium-sized businesses.
The company is even moving the needle in processes like DID, with the desire to help promote millions of safe transactions through authentication and security in all aviation industries, not only in Vietnam but also across the world. Viet Hai hopes to drastically optimize the global prosperity, economic development, and protection of users. The whole world is moving towards building a global information security community, and Viet Hai is making a substantial contribution to this process.
Speaking further, Viet Hai CTO–Han Truong states that with the increasing demand for live streaming in 4K/8K quality, internet facility on-the-go, virtual reality-based indoor programs, and many more, the need for stable, high-bandwidth connectivity will become critical. To facilitate such needs, Viet Hai Communication is working with operators to bring real-time connectivity to benefit customers directly. "We are figuring out a way that can demonstrate the use of 5G technology for normal, day-to-day usage," adds Han. To that end, Viet Hai Communication is even planning to launch a messaging platform that supports high-speed 4G and 5G connectivity and suits regular customers' needs.
To achieve the above long-term goals, in the development process, Viet Hai Communication always sticks to the company's core values of "Taking responsibility and building trust. Sincere, long-term cooperation. Learning and continuous development." The company considers the core values as the guideline for the survival of the business. "To improve ourselves, we always strengthen connections and exchange regularly with global technology partners, always learn constantly to keep up with the ever-evolving trend of current technology", adds Trinh. On this path forward, the company will continue working with solution seekers and guide them to a digitally-powered, sustainable future.