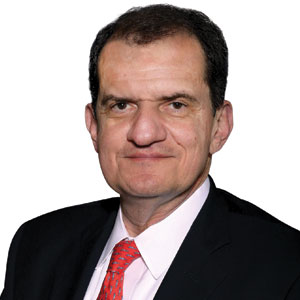 Dean Douglas, CEO and President
The on-demand consumer, empowered by their mobile devices will settle for nothing less than instant gratification. Any slag in network performance or delay in connectivity, and the hyper-connected consumer has no qualms about switching their networks, channels, and telecom providers for a more seamless service. In such times, telecommunications companies must cater to a user's demand in mobile-first, micro-moments and persuade subscribers to buy into an experience over just selling a product or service.
Powering connectivity of the future is industry behemoth Syniverse that is building bridges between organizations, people, and devices with their state-of-the-art network, software, and mobile services. With an industry presence that spans over three decades, today Syniverse connects millions of people in over 200 countries and territories, giving businesses the keys to an ever-expanding ecosystem of engaged consumers. "We have listened to our customers, who have made it clear this digital transformation requires partners who are bold and relentless. The world's most connected company perfectly describes what Syniverse is today," remarks Dean Douglas, president and CEO of Syniverse. Douglas brings to Syniverse extensive executive leadership experience, with a long-running career across telecommunication and information technology. Driven by industry visionaries and breakthrough innovation, today Syniverse has developed the largest private network ever built for linking the mobile ecosystem, reaching seven billion devices across the globe.
A New Take on Intelligent Connectivity
Syniverse has packed a comprehensive portfolio of hosted services into a complete, powerful mobile virtual network operator (MVNO) solution, specifically for telecom providers, enabling them to reach out to subscribers in a timely and secure manner. Statistics by MarketWatch indicate that the MVNO market is projected to grow to $88 billion by 2022. To capture such an impending opportunity, what organizations need is a differentiated, high-quality offering that stands out, and Syniverse's next-gen MVNO offering is the exact fit. The MVNO platform allows companies to build and manage their virtual network offering with remarkable customization and flexibility. Whether it's underpinning connectivity in the internet of things, finding a novel way to feed data-hungry subscribers, or preparing for the new world of 5G, Syniverse provides a diverse toolkit to establish their stakes in the MVNO marketplace.
The company's IPX Complete is one such comprehensive toolkit that is built on a secure, large-capacity data connection and capable of handling huge demands on bandwidth while supporting consistent quality of service. Supported by Syniverse's IPX Network, a future-proof network architecture and diameter signaling service, a powerful tool for managing data across networks, IPX Complete establishes a foundation for the successful rollout of new mobile services, like 4G and 5G. Communications providers can use IPX Complete to reduce costs and decrease complexity while improving efficiency by integrating all IP services into a single, secured connection that minimizes equipment costs and infrastructure support.
The world's most connected company perfectly describes what Syniverse is today
The solution improves network management with robust web-based tools alongside comprehensive traffic reporting and troubleshooting capabilities. What's more, IPX Complete ensures superior quality of service by providing customers with end-to-end, IP-based voice, data, and video services, like Rich Communication Services (RCS).
RCS is clearly the next level in messaging services that make innovation a reality. RCS encompasses everything from instant messaging, live video and large file sharing, to tailored messages and interactions that allow subscribers to complete a purchasing journey without ever leaving their messaging app. This one-stop advanced cloud solution, allows operators to gain visibility and control over all application-to-person (A2P) messaging traffic on their network through the Syniverse Messaging Monetization solution. By using grey-route detection tools, firms can now identify the message types running on a network, so that they can properly rate, bill, and block them, as well as capture new revenue streams from rich business messaging. For example, if a telecom provider's roaming group sends out customized plans, on the very same day the marketing team can curate and track all the communications on a single platform. The service is also designed as a high-availability secure solution with controls geared to minimize revenue leakage.
Fuelling Boundless Connectivity
Another cutting-edge service that is turning heads in the industry is Syniverse's Enriched Roaming Services, which is paving the way for roaming with no boundaries. Now travelers can always be connected from anywhere across the globe as Syniverse allows operators to detect subscribers when they move off a home network to deliver tailored roaming offers. Syniverse Enriched Roaming Services uses real-time intelligence to drive contextual data where subscribers can select their roaming plans designed especially for them with anti-bill-shock features. Telecom providers in turn now have access to a much-awaited service that allows them to tap into the $6 billion silent roamer market.
Needless to say, Syniverse's Enriched Roaming Services was the solution of choice for a mobile operator that wanted to enhance the experience for roaming subscribers as well as drive continuity. On facing difficulties in placing calls and using data, customers were abandoning the home network and the provider had no way to ensure that roaming services were consistent outside its network. Syniverse worked with the client and implemented Total Visibility, a reporting and analytics tool that allows users to support customers when roaming services falter. Total Visibility gave the operator a snapshot of roaming success in real time and quickly alerted the team when a partner network's success rate dropped dramatically. In an instance, the team was notified when there was a 70 percent drop in roaming session success rates. Acting on the alert, the client was able to follow up with the partner network and fix the problem immediately.
Experience of the Future
Underpinning all their services is Syniverse Secure Global Access, a protected global network with cloud service connectivity designed for businesses looking to provide secure IoT deployments, gain insights from intelligent data analysis, or integrate communications between remote locations. Secure Global Access is an unparalleled asset for implementing compelling business ideas as it provides the network to reliably transport business data while connecting to the world's mobile operators and cloud service providers. "As the business landscape has evolved, we've reequipped ourselves with a new set of tools that will allow companies in every industry to expand their reach and imagine new ways of connecting. Syniverse Secure Global Access is the cornerstone of this, allowing businesses to shield their assets and data from potential threats on the public internet," states Douglas.
As the world races headlong to digitize every aspect of their lives from conducting transactions to exchanging information, Syniverse is the change agent that is reimaging possibilities for communications operators with exclusive messaging services, secure network, and boundless connections. In line with their upcoming endeavors Douglas remarks, "We are helping companies build smarter relationships with their customers, and we are crafting the more secure, more flexible business platforms of the future. We are excited for what's next."