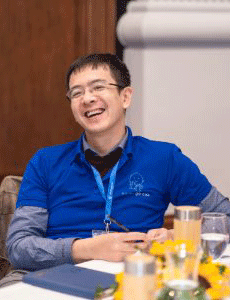 Nguyen Ngoc Toan, Founder & CEO
Just a few years ago, the idea of projecting a holographic image of an individual located in Mumbai to a conference room in Toronto seemed like a farfetched concept. Today, several futuristic visions like these have not only turned into reality but are also transforming the modern corporate universe—all thanks to the evolving telecom industry.
The modern telecom industry is on the verge of a quantum leap with accelerated technological evolution and onslaught of disruptive new concepts in networks. The evolutionary pace of this industry in the age of connected devices and people has positioned it as the enabler of the upcoming digital transformation wave.
Today, with a vast ocean of connected devices and technologies such as virtual reality, augmented reality, and IoT surrounding individuals, human skills can be multiplied even at remote locations within milliseconds. In lockstep with this evolution, connected networks shall no longer be considered as the network of exchanging information. Instead, 'information' concepts must be redefined, since today, unseen information such as human skill, mood, emotions, and even brain neuron activity can be transferred among both people and connected devices.
In this scenario, many mobile operators are struggling to define a vision that will align well with these developments. While some operators are trying to overhaul their concept of networks, they fall short from achieving the true digital transformation.
Helping such companies in the telecom sector achieve digital transformation in line with their business benefits and a sustainability development model, is VIET HAI Communication, a telecom consultancy and service provider for cellular operators. "We extend our consultancy beyond the boundaries of just improving the quality of communication networks and have redefined our mission of creating value in the process of digital transformation by overcoming limitations of time and space," says Nguyen Ngoc Toan, founder and CEO of VIET HAI Communication.
For years, VIET HAI has helped network operators, technology companies, and content service providers in over 15 countries to carry out network planning for more than 50,000 mobile communication base stations and 25,000 routes. VIET HAI Communication is specialized in end-to-end broadband transmission, backbone networking, television distribution and acquisition network, international IP transmission network and ground satellite stations. Albeit its established international footprint, VIET HAI considers itself as a "local" company that is spread across a larger region covering the entire south and east coast of Asia continent.
A Matchmaker in Technology
VIET HAI's focus is to connect right partners with right resources and technologies that would eventually lead to better, faster, smarter and more profitable networks globally. Traditionally, telecom operators had the upper hand in purchasing. It was common for them to sit back and wait for the technology vendors to find and approach them. However times have significantly changed. Today, as soon as a brilliant technology hits the market, telecom operators need to immediately make a run for it to acquire that technology and make profit margins for their business, instead of waiting for vendors.
On the other hand, conditions are equally bleak for technology vendors where they might take over ten years to establish their footprint in every corner of the world via setting up a representative office, selecting local resellers and distributors in each country - constantly in the pursuit of "Finding the last piece of puzzle".
We have positioned ourselves as problem solvers who bring extreme success to our clients by reducing friction on their way and providing them with the necessary boost to reach their goals
However, it is often observed that the life cycle for software solution is usually very short-spanning three to five years at the most. This means that the vendor runs a very thin chance of succeeding in a limited period of time, most of which is spent in identifying and targeting the right customers and understanding where they are.
Nguyen Ngoc Toan states, "We know where they are. As a match maker in technology, we have an important role to play in this disruptive revolution. We believe the unique value we can bring to the world which is: matching right people with the right technology solution in the right time"
Delivering Value with Consulting
Nguyen Ngoc Toan draws parallels between VIET HAI's role of a telecom consultancy company and a dynamic pulley system that helps solution seekers to find the right solutions in order to achieve their business goals. Similar to how a dynamic pulley reduces the pulling force by half, VIET HAI reduces its client's efforts, resource dependency, and technology constraints by providing them with the required solutions for achieving desired results. Nguyen Ngoc Toan states, "We have positioned ourselves as problem solvers who bring success to our clients by reducing friction along their way and providing them with the necessary boost to reach their goals."
Following this model, in 2019, VIET HAI delivered tremendous success to one of the largest mobile operators that have been the company's client since 2012. VIET HAI has developed new business relationships with the most advanced innovation hubs and helped in implementing world-class service assurance systems in Asia. The company has also developed specializations in location intelligence and merchant payments, among others this year. VIET HAI's dynamic pulley (consultancy services) is also designed to cater to multiple industry verticals outside the boundaries of the conventional telecom sector. In the pursuit of enabling network industry and consequentially growing energy needs VIET HAI is also invests heavily on telecommunication infrastructure that promotes the usage of renewable energy and energy saving for telecommunication industry.
The Sustainability Model
According to Le Nguyen Chi Trinh , Vice President of Sales, VIET HAI, alongside the revolutionary role of the telecom industry, the key to digital disruption and its impact on global evolution is the critical 'human development.' VIET HAI considers "human beings" as the center of a comprehensive sustainable development that can enable civilizations to thrive with technology. Bearing this in mind, the company has designed a series of training courses and has made them available to its staff and also the public. "Cultivating a culture of enhancing confidence and deep understanding of their needs, wants, and how to fulfil them will help people generate positive energy and will also enable us to gain pace in the development of a sustainable future," adds Le Nguyen Chi Trinh. This mission of VIET HAI goes beyond the dynamics of business, returns, and even competition to reach the goal of the greater good for humanity.
The Genesis of a Vision
Competition, as for most organizations, is an inevitable bridge that must be crossed after venturing into the corporate universe. In the pursuit of opportunities, VIET HAI, however, doesn't seek ways to confront any competitor. Instead, VIET HAI strives to learn, help, and cooperate with them to develop technologies and solutions together.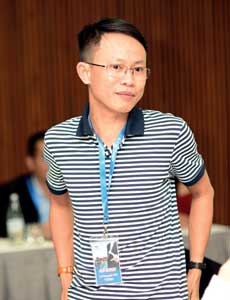 Mr. Le Nguyen Chi Trinh, Vice President of Sales
Nguyen Ngoc Toan believes that being competitive is not always the right or faster approach to success.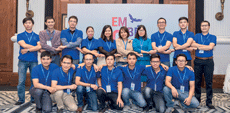 He substantiates his viewpoint with an interesting analogy of the classic rabbit and tortoise folklore in a different way. He narrates how irrespective of how fast the rabbit could run, as long as it keeps measuring and comparing its success with respect to the tortoise, it will eventually end up losing, or worse – extending the race.
VIET HAI's foundation is established with this realization where the company understands that following a competitor's values of success and trying to replicate their model of business will eventually turn into a never-ending rabbit-tortoise race. From that point of view, VIET HAI set out with an inside out perspective and assumed the role of an agile rabbit that is oblivious to any competition and solely focuses on its own speed.
After embarking on this thought process, VIET HAI soon established its core values of taking responsibility and building trust with customers, creating a sincere and long-term cooperation with them, and cultivating a culture of learning and continuous development.
Contributing to the People and Global Initiative
Instead of building relationships that are purely profit-based, VIET HAI's business relationship with partners is built upon sincerity and mutual understanding, whilst ensuring customer satisfaction. The company has built its code of conduct as "Think Big before Acting Small," where VIET HAI believes that the only way of reaching customers is by helping others reach their customers. Nguyen Ngoc Toan explains that every action needs to be measured in a 1:4 benefit measurement approach for attracting partners, clients, and end-customers. For instance, if VIET HAI earns $1, it goes on to help its partner earn $4, the partner's client earn $16, and the client to earn $64 while bringing the benefit of around $256 to the customer. The end-customer again would create the benefit of say $1,024 to the subscribers.
With this unique business principle, VIET HAI has created a vast geographical footprint across Asia, Africa, the Middle East, and Latin America, with Asia at the center of its evolution.
As a progressive organization, a significant part of VIET HAI's team has spent over 10 to 15 years working together, spending a fair share of efforts and investments to learn, unlearn, and relearn processes that serve the greater purpose of telecom driven digital transformation. On an individual level, when the company acquires new talent, it creates a progress plan for their self-development and self-fulfilment as VIET HAI considers its workforce as the most valuable asset of the company. Along this journey, VIET HAI aspires to encourage every individual to enhance their full capabilities and competencies, and understand their vital role in shaping the future of the world.
"Continuous learning, out of the box thinking, and building new roadmaps from discrete ideas by enhancing reality awareness are the core values of creative, powerful people, and their organizations in a quickly changing world. And that is what we bring to the table as solution seekers," concludes Nguyen Ngoc Toan.
- Selena James
December 21, 2019